Speak to us right away.
Call 905-769-0418 for a free no obligation consultation.
Quality Service Is Our Priority
I fight to get fair compensation for my clients. I get results. Period.
HAMILTON PERSONAL INJURY LAWYER
YOUR PERSONAL INJURY LAWYER
I fight to get fair compensation for all my personal injury clients. I get results. Period.
Why clients choose my personal injury firm

You hire me and only me
I am the only personal injury lawyer you will deal with, I don't delegate to juniors.

Over 25 years experience
I've been practicing in personal injury and insurance litigation since 1995. I only deal with personal injury claims.

I know how insurance companies think
I know both sides of insurance litigation having worked first for Insurance companies and now exclusively for Personal Injury Plaintiffs

I get paid when your case is resolved
No payments are required until I have successfully recovered money on your behalf.

Select case load
I purposely take a limited number of cases, so you always get my full attention and I actively manage your case.
I am an established personal injury lawyer in Hamilton and have been practicing insurance litigation since 1995. I know that a personal injury from a car accident, a catastrophic injury or even a denied LTD claim can dramatically impact your life. You may feel overwhelmed, angry and helpless.
One of the key reasons people choose me to help them is because I've worked both sides of personal injury law and I know personal injury cases. I know how insurance companies think and I use that knowledge to help you benefit. At our office, you will always have a legal team working with you throughout the entire process. Having said that, I am the only personal injury lawyer on your team you will deal with. I don't delegate to the juniors with no experience. You hire me, you work with me. My clients are my top priority. Always.
After sustaining a personal injury, it can be confusing and overwhelming to understand which benefits you may be entitled to. Whether you have suffered from a wrongful death in the family, been in a car accident, suffered a spinal cord injury or been injured from someone else's negligence, our hamilton personal injury law firm is here for you.
It is important to speak with a personal injury lawyer as quickly as possible to help you understand your rights. We are here to help. Plus, we like what we do and we make our process as simple as possible. I will help you understand your rights and get you the compensation you deserve to help you on the road to recovery.

"Mr Wilson and his staff are very professional and personable. They had my best interest in mind and were able to assist me along the way. I highly recommend this law firm. They really do care for their clients."
Contact Our Hamilton Personal Injury Lawyer Today
They can range from a concussion to a significant traumatic brain injury and can be debilitating.

Spinal cord injuries can be a catastrophic injury to the spine, spinal cord or brain.

You may be eligible for compensation if you sustained injuries in an ATV accident.

Major trauma and death can be caused from accidents from skiing, snowmobiling, boating, cycling and more.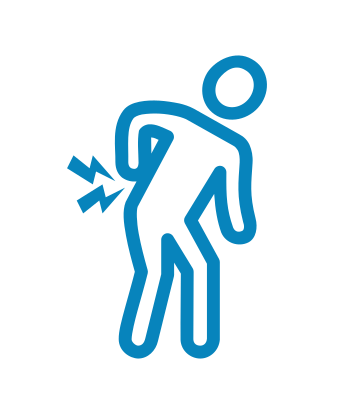 Pain after an accident or personal injury can severely disrupt your life and affect its quality.

An injury from a vehicle crash can affect your mental, physical and financial well-being.
We help accident victims recover compensation from insurers.
What is Personal Injury Law?
Generally speaking, personal injury claims arise from injuries caused by another party, person, or entity. They typically involve claims of negligence — where the party responsible has failed to adhere to the applicable standard of care, directly causing personal injuries as a result.
In order to prevail on a negligence claim, the victim must prove both liability and damages. Liability means that the party who caused the injuries is legally responsible for them, while damages deal with the financial and other losses that the victim has experienced as a result of the injury.
The area of personal injury law is vast and broad, and it encompasses many different types of accidents and injuries. The following are just some examples:

Motor vehicle accidents and traffic accidents, including those involving cars, trucks, pedestrians, bicycles, and motorcycles.

LTD, which are medical conditions or injuries that prevent an individual from being able to work or perform daily activities for an extended period of time, typically lasting six months or longer, and may include conditions such as chronic illnesses, mental health disorders, musculoskeletal injuries, and neurological disorders.

Premises liability, including slip-and-falls, dog bites, and other injuries that occur on the property of another person or business.

Wrongful death, which is a claim brought by the estate or survivors of a party who has died as a result of the negligent party's actions.
Accidents can sometimes lead to serious personal injuries, such as traumatic brain injuries, spinal cord injuries, and internal injuries that require significant medical attention, leading to financial losses. You may be unable to work for a period of time, losing income or wages in the process. You may also experience severe pain and suffering, be unable to do activities that you enjoy, and have an overall decline in your quality of life as a result of the accident.
What Does the Work of a Personal Injury Lawyer Entail?
Personal injury lawyers wear many different hats during the course of a case, and they can provide expert guidance during the personal injury claims process, which can be difficult and complex to navigate. Personal injury cases often involve various laws, unique and complicated fact patterns, having to communicate with various parties and authorities, and the need to preserve important evidence and build a strong case on its basis.

Get the facts straight
They will go over the facts of your case with you and investigate those facts as needed to build a strong claim. They will also interview witnesses and communicate with the other party and their insurance company on your behalf.

Evidence gathering
They will help gather and preserve important evidence, such as any police reports, documentation, photographs, and proof of personal injuries or property damage.

Legal research
They will research the law involved in your claim and advise you of your legal rights, options and responsibilities. They will discuss with you and advise you of potential next steps and strategies to take in your case. They will apply the law to the unique facts of your case.

Case evaluation
They will work with you to properly ascertain and prove the true extent of your damages, including medical and hospital bills, repairs, pain and suffering, and the general decline in the quality of your life. They will also help you gather the documentation needed to prove your damages, such as your medical bills, other invoices, and proof of any missed work or income.

They will negotiate on your behalf with the other party and their insurance company toward a fair and reasonable settlement offer. They will also send a demand to the insurance company, spelling out the compensation that they are seeking on your behalf.

Case preparation
They will prepare pleadings and file them in the appropriate court, setting out your legal claims, the facts of your case, and what you are seeking as compensation for your damages.

Pre-trial
They will conduct discovery, exchanging information with the other party as part of the pre-trial stage. They will also file appropriate motions and respond to those filed by the other party.

Fight for you
They will argue on your behalf in court, presenting a strong case to the judge or jury in an effort to obtain a winning verdict if settlement negotiations do not yield a successful agreement.
Derek Wilson Personal Injury Law Firm is based in Hamilton, Ontario. However, Derek Wilson and his team provide personal injury law services in many of the surrounding cities, towns, and regions of the Golden Horseshoe area. Regardless of where you live, we can help you with your personal injury case. We have experience with most areas of personal injury law. Our areas of practice include motor vehicle accidents, disability insurance claims, brain injuries, spinal injuries, chronic pain, wrongful death, product liability, and more.
We are not the type of personal injury law firm who posts all their wins on their site with big dollar signs, but we are happy to share that list with you in person.

'I want to thank Derek Wilson and everyone involved at the office for making this as comfortable and stress free during my case…I highly recommend his services to anyone who wants the best outcome and help through your personal claim. I can now live my life and put my accident behind me.'
No fees until I have successfully recovered you money.